The Culworth Gang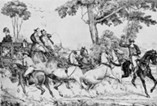 By David Hollins (direct descendant of John Smith the Elder)
When my paternal grandmother died in 1980, she left a photograph, showing her mother's family, the Smiths, in the small village of Easenhall, west of Rugby. I had thought little of it: Smith was likely to be a difficult name to trace and a family of agricultural labourers probably wouldn't reveal much before the records dried up. How wrong could I be? Looking out at me was Charles Smith, whose father, Henry Smith, had been born in Culworth in 1820, one of many children of Thomas Smith (b.1790) and Mary Bazeley (b.1788). Thomas was the son of a reformed character, William Smith, who had remained in Culworth after the execution of his father, John Smith the Elder, at Northampton in 1787 – John had led the Culworth gang in a reign of terror across the south of Northamptonshire and neighbouring parts of Oxfordshire and Warwickshire lasting nearly 20 years.
John Smith the Elder originated from Dunstow (although it is not clear whether this is now Duns Tew in west Oxfordshire or Duston, a village now part of NW Northampton), where he was born in about 1734, being 53 at the time of his execution in 1787. He had married Elizabeth Tack (b. circa 1735) from Culworth on 17th November 1761. They had at least three children – two sons: William (b.1762) John (1764-1789) and a daughter, Mary (b.1768).
Writing in 1841, Alfred Beasley sets the scene for what Smith's move to the village would bring: "In the lovely undulating countryside of the southwest corner of Northamptonshire, seven miles from Banbury, lies the quiet village of Culworth. The long attractive street with its houses of contrasting dark and light bands of stone makes a pleasing picture. Times were not always so quiet for the inhabitants of Culworth, for in the latter part of the 18th century a band of robbers had their headquarters in the village." At its largest, the gang consisted of about fifteen individuals, although membership varied and several died off across the period of the gang's existence. They had first come together for poaching, but then they moved on to housebreaking and highway robbery. John Smith the Elder, who is described as "a man advanced in life, but of great bodily strength and daring energy of character" led the gang, joined later by his two sons, John Smith jnr. and William Smith. The other leading members also came from Culworth village itself: William Bowers, Richard Law, William Terrill (or Turrell), Thomas Malsbury and John (or Jack) Tack, while William Pettipher (or Pettifer, aka Peckover), aged about 40 in 1787, lived in Chalton-by-Newbottle (now Charlton cum Newbottle). All are described as labourers, most of them working in the day as farm labourers, mill hands and in other manual jobs, except Law, who was a carpenter and listed as just 30 in 1787. The most flamboyant member was William Abbot, who came from the neighbouring village of Sulgrave. Outwardly, he was a respectable member of the community, being a shoemaker and the parish clerk. However, he always carried pistols on him, even when performing his official duties in the church – which he also used to hide some of the gang's ill-gotten gains. Among the more occasional members was a chap named Gilkes, who was the son of respectable parents in the neighbourhood and so it can only be presumed that his motive for joining the gang was the excitement, and a romanticised view of their activities. The authorities do not appear to known of their nocturnal activities as William Smith, Law, Terrill and Abbott all appear in the 1777 Northamptonshire Militia lists, where William Smith is listed as a domestic servant.
The village of Culworth was then an excellent base for the gang's activities. It was remote and had the advantage of two good escape routes running through the village: The Welsh road and the Banbury lane, two ancient drovers' tracks. A nearby turnpike road through Whittlebury forest carried plenty of passing traffic in the form of both coaches and goods carts travelling between Oxford and Northampton. By the standards of the time, the gang's behaviour was not brutal: Dressed in smock frocks and masks, they attacked stagecoaches and plundered houses all over the South Northamptonshire countryside, but they made sure that their victims were so terrified that they refused to give information to the authorities for fear of reprisals. At the time, there was a general prohibition on the carrying of firearms following the Jacobite rebellions earlier in the century, so the gang did not kill or maim anyone. They resorted instead to coshing unco-operative victims with billyclubs (short, thick pieces of wood) before relieving them of money and goods. The gang's modus operandi was to take meticulous care with their plans, but their friends and neighbours must have had some inkling of their exploits, as the men were often away from home and work. However, they too were so frightened of the gang that no one would take the first step to inform the authorities. Nevertheless, their notoriety was sufficient to prompt the owner of Stuchbury Hall to set a man trap behind the house and install iron bars across the wooden shutters as precautions against them.
The most brutal attack that they carried out was on a Mr. Wyatt, a farmer of Sulgrave. In the middle of the night, one of the gang called on the farmer and told him that a drove of pigs needed to be taken in, but as soon as Mr. Wyatt went outside, they knocked him down. One assailant jumped on him, bruising him badly about the head and chest. Then they dragged him into the house and shut him and his wife into the pantry. The thieves made off with goods and money to the value of £40. In contrast, following their robbery of a farmhouse owned by one William Page, one member of the gang left a short poem:
"Dear Mr. Page
Don't get in a rage
We bought your geese
For a penny apiece
And left the money
with the gander."
Although they used Banbury Lane to disappear into, the Gang never attacked a drove, as drovers were permitted to carry flintlock weapons and were usually accompanied by paid 'heavies', often fugitives from justice themselves.
The gang's base to the west was the Gaydon Inn, just over the county boundary in Gaydon, Warwickshire, where they would both make their plans and divide their spoils. From there, they attacked local farming folk, often people they knew personally, returning from market along the Northampton-Oxford road. On one occasion, they took £450 from three of them. Tradition has it that another of their local meeting places and bolt-holes was a barn belonging to Fernhill Farm, also on the Warwickshire boundary.
The gang only seems to have come unstuck once, when on Nov. 3rd 1783 they tried to rob the home of Mr. Eaglestone in Old Wolverton in Buckinghamshire. As it is twenty miles from Culworth, they presumably travelled on horseback. The gang put on their disguises of smocked frocks and blacked their faces before seizing one of the servants, telling him that they would kill him if he didn't go with them and knock at the door. When the door was opened, the robbers rushed inside, but this time, their victims retaliated: Mr. Eaglestone and two of his men attacked them, almost catching the thieves. But in the confusion one of the servants received a heavy blow from one of his comrades, allowing the gang a few precious minutes to get away.
Another crime was committed by the gang on January 18th 1785. At about 8 p.m. on a dark winter's night, seven of the gang ambushed Mr. Richardson, an Oxford 'carrier' (transporter of goods for payment). Even though he had his fierce dog with him, the gang were not deterred from hitting Mr. Richardson on the shoulder with a pitchfork. Then four of them held on to him and his son, whilst the other three drove the cart behind a hedge and plundered it at their leisure, making off with £140 worth of goods and money – this was a considerable sum when the daily wage of a labourer was only 5d (2p).
Just two years later in 1787, the Culworth Gang's luck ran out, due to the careless overconfidence of two of its members: Richard Law and William Pettifer had stopped at an inn in Towcester and because it was late, they decided to stay for the night. They told Mr. Duffin, the landlord, that they had been to a cock-fight at Blakesley. Confident of their cover, they retired to bed, leaving their two bags downstairs. They had told Duffin that each contained a bird. The landlord's curiosity got the better of him and he peeped into one of the bags. To his astonishment, he found it actually contained two smock frocks and masks. Having heard of the numerous robberies which had been committed in the neighbouring district by people disguised in such attire, his suspicions were aroused and he sent for the constable. These two decided to wait to see what developed. A few days later, there was a burglary at the house of a Mr. Mayho at Sewell Farm near Blakesley, adjoining the Banbury Lane, during the night, in which all the valuables were taken by robbers, who were dressed in smock frocks and had their faces blackened or were wearing black masks.
Law and Pettifer were swiftly arrested, but they denied any knowledge of the crime – this was true as it had in fact been committed by other members of the gang. However, the landlord and constable then gave their evidence before the judge, so both Law and Pettifer were committed to prison. For some time, they denied involvement in the recent robbery, but thinking that they were not suspected of being leading figures in the gang and so would be more leniently treated, they implicated William Bowers, who had planned and led the robbery, and the rest of the gang. Perhaps unwisely, they also confessed to their own involvement in 30 other robberies over the previous 15 years. After most of the gang were arrested, their homes were searched and many stolen items were found. More were found in a secret vault underneath a barn floor and after Abbott, the rascally parish clerk, had confessed to 17 crimes, other items were recovered from where Abbott had hidden them in Sulgrave church. (A catalogue of these items was made by the Rev Michael O'Clare).
Law, Pettifer, the elder Smith, Bowers, Abbott, Terrill and Wiliam Smith were committed for trial at the Northamptonshire summer assizes in 1787 upon various charges, primarily highway robbery. William Bowers, then aged 36, was the most obstinate and hardened criminal of the lot, swearing and cursing loudly throughout his trial. On one occasion, he jumped up and started shouting that "a man had no more chance here than a cat in Hell without claws." At the end of the lengthy trial, five - John Smith the Elder, Richard Law, William Pettifer, William Bowers and William Abbot were given the death sentence. Hastily, Abbott gave evidence about 17 other crimes and his sentence was commuted to transportation to Australia for life. William Smith and William Turrell were discharged through lack of evidence, though why Turrell should have escaped isn't clear as he was implicated by Pettifer and Law in 21 of the gang's robberies.
Whilst awaiting execution in Northampton gaol, the four convicted members of the Culworth gang spent their time reading and praying. Resigned to his fate, John Smith wrote a letter to his wife, in which he expressed his feelings on his approaching death and begged "of my children to take warning from my unhappy end, that they may turn to the path of virtue, and beg of them to beware of bad company and Sabbath breaking, which is the wish of their dying father.". He then added in a p.s.: "Desire my son John to marry Elizabeth Beere and beg of him to be good to her and the child and take warning by me that they may live in comfort. I desire you will take care of these lines and cause them to be read to my children every Sabbath day and I hope that God will give them grace to take warning". Having also undergone a conversion to religion, Pettifer's last letter, written just before his execution, is a frank admission of his crimes. He admitted that the gang had robbed scores of houses, "which us all do repent", adding that "he hoped that all young men will take warning by my sad fate and also read and study the bible." These last confessions of the four (along with two other prisoners) were published and sold in several formats: from a double-sided broadside to a six-penny booklet. Each of the culprits is named alongside the crimes for which they were convicted: John Smith stole a silver watch and fifteen shillings; William Bowers a variety of items, including fifteen shillings, clothes and meat; Richard Law a silver watch; William Pettifer four guineas and silver watch. However, the real historical significance of the Culworth gang is due to the sheer number of crimes they committed. Members of the gang confessed to forty-seven crimes, all listed in the booklet. The letter from John Smith to his wife and from one of the other convicts, David Coe, to his parents were also included as a subtle reminder to the buyers not to adopt criminal ways and to pursue religious morals.
At 10 a.m. in the morning of Aug. 4th 1787, a mournful procession made its way from the county prison at Northampton along the Kettering road to the gallows, (now the area in Northampton known as The Racecourse). The older John Smith, aged 53, and the two younger men, Law and Pettifer, travelled in one cart, whilst Bowers, aged 36, and two other criminals (David Coe and John Hulbert) went in the other tumbril. On reaching the place of execution, on the corner of the race course, opposite the White Elephant public house (which still stands), they found a huge crowd of 5,000 awaited them. The hangings took place at mid-day, when each man was "launched into eternity," to use the contemporary euphemism. A rope was put around each man's neck, which was fixed to a cross beam, as they stood up in their cart. Then the signal would be given by a person dropping a hat and the cart would be driven off, leaving the man to hang a few feet from the ground.
John Smith Jr. and Thomas Malsbury seem to have avoided the interest of the authorities: Malsbury lived on in Culworth for some years until he was involved in an accident with a cart, which knocked him over and killed him on the spot. John Tack is said to have disappeared when the gang was being rounded up and was never heard of again. William Smith became a reformed character, working industriously as an agricultural labourer. Gilkes thought it prudent to leave the country and he went to the West Indies, where he is said to have amassed a considerable fortune. However, after many years away, he yearned for his native land and returned, but died shortly after.
Another local had however managed to become tangled up with the Gang's image, despite not being part of it: At the Northampton spring assizes in 1785, James Tarry, a labourer from Chipping Wardon, was tried for a highway robbery committed near his home village, convicted and executed, despite protesting his innocence to the end. When Law and Pettifer confessed their crimes in 1787, they solemnly declared that the elder and younger John Smith had actually committed the robbery, for which Tarry had been executed. However, despite considerable pressure, John Smith the Elder had refused to admit it. Two years after the gang executions, in 1789, John Smith jnr. was apprehended for a highway robbery committed near the Gaydon Inn. His case was heard at Warwick by the same Judge who had tried Tarry. The evidence as to Smith's identity contained several discrepancies, upon which the judge commenting in such a way that Smith considered unfavourable to himself, so he interrupted the judge, telling him to beware, since he had once sentenced an innocent man to execution. Smith jnr was found guilty and executed, but the judge ordered inquiries to be made regarding Smith's comments and before his execution, Smith made a full confession of the robbery for which Tarry had been executed, exonerating him completely. Elizabeth Beere, the young daughter of the innkeeper at Claydon mentioned by John Smith the Elder in his last letter, was "deeply attached" to John Smith jnr and had become his mistress, so she was present at his execution. She was permitted to receive Smith's body and leaving Warwick before dark on a donkey with a pair of panniers conveyed it to Culworth for burial.
There the story of the Culworth Gang ends, but they remain immortalised in a song by local folk musician, Stuart Marson: 'Close to the Wind' http://www.youtube.com/watch?v=24HsRz6OxZg which was also covered by Fairport Convention.
Sources and Further Reading:
Alfred Beesely (1841) 'The History of Banbury: Including Copious Historical and Antiquarian Notices of the Neighbourhood
David Brandon (2001) 'Stand and Deliver!: A History of Highway Robbery'
Dyndor, Z. (2008) Death recorded: capital punishment and the press in Northampton, 1780-1834. Midland History.33 (2), pp. 179-195.
An internet genealogy site produced information supposed to come from 'Tales of old Northampton', but I have been unable to find the original citation.
Beesley also notes: "Information from James Beesley Esq, who in 1837 and 1838 furnished a more detailed account of this gang to the Banbury Mechanics Institute MS Magazine". There is a more recent article: J, Gould, 'The Culworth Gang', Northamptonshire Past and Pres., 53 (2000), 38–48.