The Drovers' Routes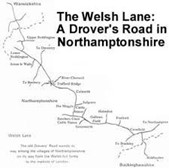 Culworth is at the crossroads of two drovers' routes, The Welsh Lane, the most important of all the old drovers' roads which ran from Wales to London, and The Banbury Lane, a route from mid Wales through the Cotswolds to Northampton, which was the most important cattle market in the area. Apparently Banbury did not become a major cattle market until the coming of the railway.
These routes were probably ancient tracks but from the sixteenth century became the route for the drovers taking cattle to fattening pastures and markets.
The Welsh Lane drovers drove their Welsh Black cattle, which later on needed to be shod (two small shoes for each cloven hoof!) from Anglesey, through Wrexham, Birmingham, Southam, Culworth and then on to Buckingham, Aylesbury and London. The route took about three weeks and avoided any villages and towns on the way. The actual route of the Welsh Lane around Culworth is unclear. After Trafford Bridge it took what is now the bridleway part of the Battlefields Trail. We know that it crossed the Banbury Lane south of Culworth and then from the Magpie followed the high ground to the present B4525 where it is known as the Welsh Lane. From there it skirts Syresham and Biddlesden and then goes on to Buckingham.
The Banbury Lane comes up from Thorpe Mandeville and from Culworth takes the Weston Road to Northampton.
Names with these words in them indicate Drovers routes – Stock, Ox, London and Drift. The Drift Road, a name used in Culworth for the top of Barley Hill, does not therefore indicate a road that was troubled with snow in the winter!
With the advent of the railways the drovers' routes gradually became obsolete.